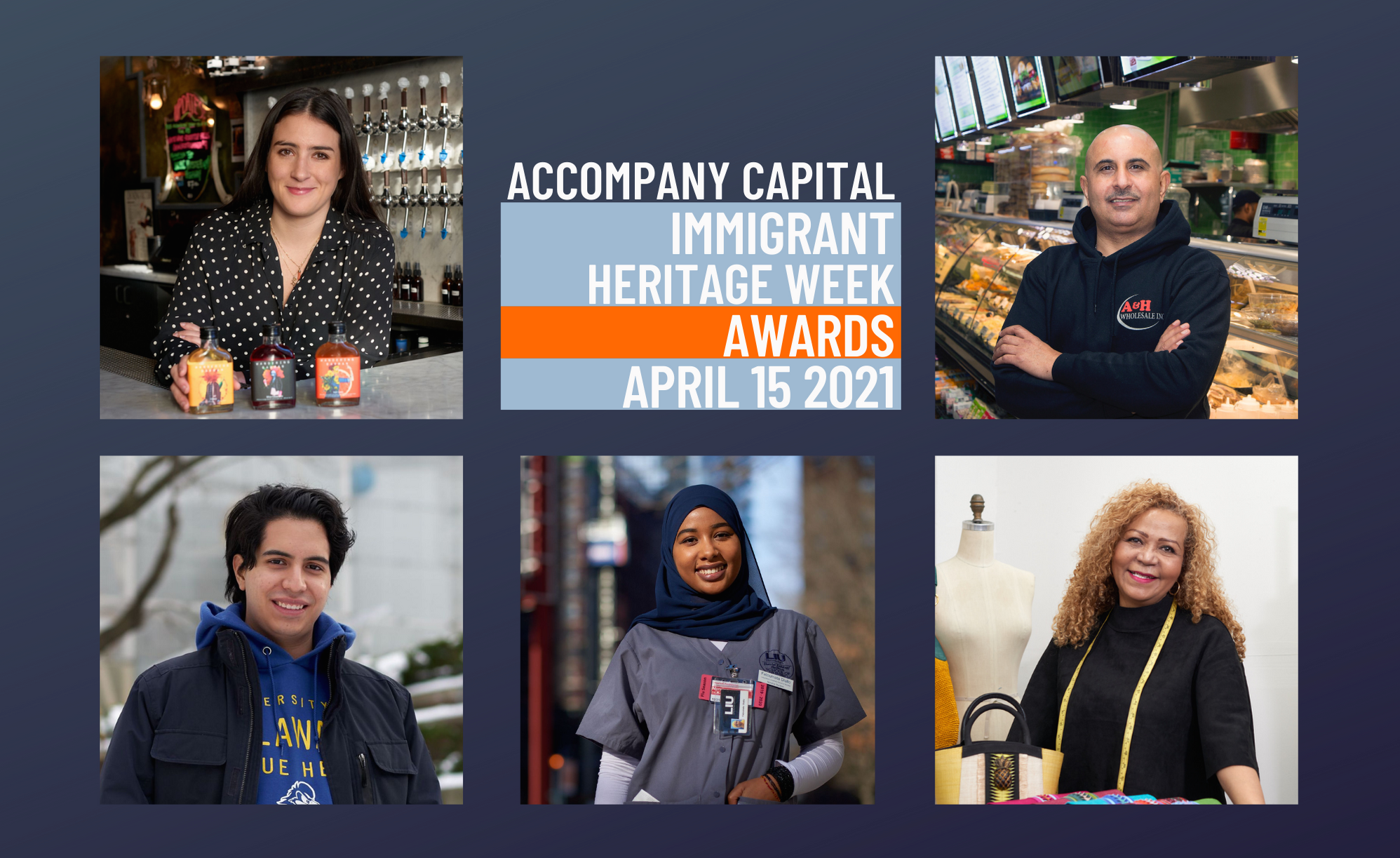 Immigrant Heritage Week 2021 – Coming Together in Celebration
On April 15th Accompany Capital was delighted to host our 9th annual Immigrant Heritage Week Awards event.
Immigrant Heritage Week was first established in 2004 and is held in April in remembrance of April 17, 1907, the day when 11,000 immigrants–the largest number in history–entered the U.S. through Ellis Island.
Since 2011, Accompany Capital has participated in this city-wide celebration each year by honoring exceptional immigrant and refugee clients, as well as thought leaders and innovators. While we had to postpone last year's awards ceremony – which came as New York and our immigrant communities were bearing the brunt of the devastating effects of the pandemic – we were thrilled that so many people were able to join us this year by Zoom and video for our first virtual awards event.
Very Special Guests
We want to particularly thank Commissioner Bitta Mostafi of the Mayor's Office of Immigrant Affairs (MOIA) for her wonderful message of support and recognition of the honorees. Our deep gratitude goes to her entire team as well, not only for the emotional and material support they provided New York's immigrant communities during the pandemic, but also for how relentlessly they worked for the past 4 years to ensure that immigrants in NYC were made to feel safe, welcome, and legally supported.
We were also honored to be able to share a special message from Congresswoman Nydia Velazquez. As the Chair of the House Small Business Committee, Congresswoman Velazquez works tirelessly to advocate for support for Main Street small businesses.
This Year's Winners
The 2021 Accompany Capital Job Creator award went to Rafik Al Mamlouh who came to the U.S. in 1994, from Yemen. In 2009 he opened Johnson Gourmet Deli & Grill in Downtown Brooklyn, then went on to open 6 additional businesses with a total of 119 employees that have attracted and retained many loyal customers.
Our Made in New York award went to Roxane Mollicchi, one of the founders of The Wandering Barman, a Brooklyn startup that produces handcrafted bottled cocktails. Her business not only filled an important niche during the pandemic, providing restaurants with beverage take-out options, but she has been able to continue work on an exciting new space and tasting room that will open this year.
This year we honored three very inspiring New Yorkers with the New Beginnings Award. Fatoumata Binta Diallo, who recently completed her BA in nursing, took time off from her busy schedule vaccinating New Yorkers to join us via Zoom. Victor Ramirez Delgado joined us from the University of Delaware, where he just earned an undergraduate degree in Physics and will now pursue a doctorate in Astrophysics. Our third awardee, Luz Villada, who is originally from Columbia, has recently opened her own company in the garment district where she makes men's, women's, children's, and bridal wear as well as designing and making patterns.
Special Thanks
We want to express our heartfelt thanks to our Board Members, staff, and guests for joining us to honor these remarkable, enterprising immigrants and refugees, as well as to Maria Luisa Gambale of Vera Donna Films who made the terrific video profiling each of our awardees. If you missed this year's celebration, please click here to watch the highlights.