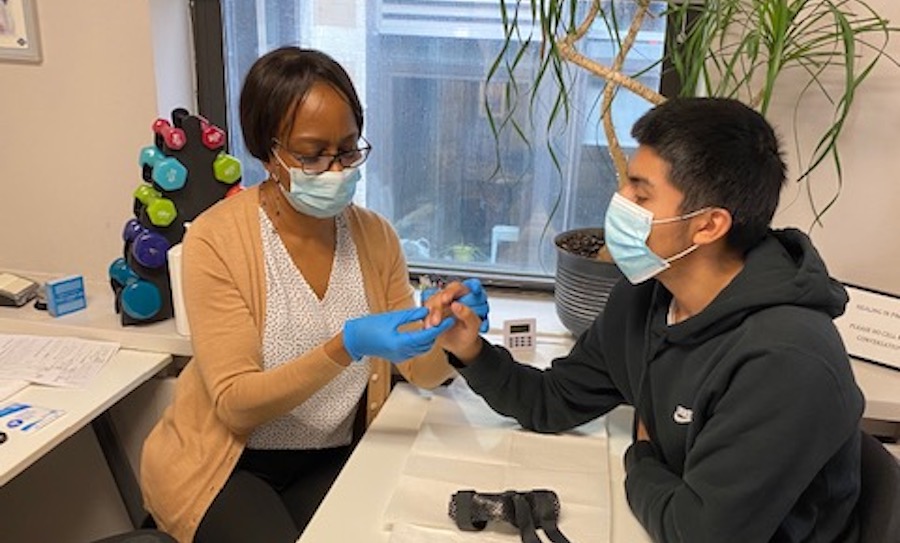 How We Are Supporting Our Clients with Emergency Loans
by Yanki Tshering

As the global health and economic crisis continues, BCNA, with the support of our Board, funders, and partners, has quickly pivoted to provide relief to – and to continue to support – our 600+ clients.

Our first – immediate – goal was to contact each and every one of clients – by email, text message, or by phone – whatever it took – to reassure each client that we were operating remotely and at full capacity. Because many of BCNA's clients have come from countries with civil unrest and often unreliable forms of public communication, it was particularly important for them to have a trusted source of information.

Our next critical goals were to:

Inform clients about the CARES Act, which provides six months of debt relief to those with SBA funded loans
Offer deferments to non SBA loan clients
Inform clients about the growing number of relief programs for small businesses offered by New York City and the SBA
Offer application assistance when necessary
Move our workshops online so that our clients can use the time to gain business skills as well as update and strengthen their business' online presence.

We are heartened by the fact that a few of our clients have already successfully qualified for a grant or interest-free loan from NYC and the SBA.

And, on April 10th, BCNA's lending team launched an Emergency Loan Fund to help small business clients stock inventory or manufacture items in high demand, help businesses prepare for the gradual re-opening of the economy, or simply to provide relief in the interim.  These loans range from $5k – $25k at 3% interest and with no fees. As of June 16th, we have approved 92 loans for a total of $1.2MM, and have already disbursed 61 of those loans for a total of $793,855.

Clients for whom we have approved emergency loans include Vladimir Teriokhin, the owner of Haute Knit by Vladimir in the Garment District, who is currently working from home to prepare patterns for the fall collections of many important New York design houses, as well as his own collection. This emergency loan will help him with operational costs, particularly as he prepares to move his production from international knitting contractors in Eastern Europe, to local knitting contractors, thereby creating new jobs in NYC.

A number of clients with grocery stores or wholesale food businesses are experiencing higher sales than usual. We were therefore pleased to be able to provide an emergency loan for Dhakshin Arachchilage, the owner of Lak Food, a wholesale distributor and grocery business, whose company specializes in lentils, spices, rice, and other packaged food products imported from Sri Lanka that are popular with South Asian communities. Lak Food supplies products to approximately 30 grocery stores on the East coast and he'll use the funds from the to replenish his inventory and ensure that he and his team are able to deliver to his customers.

Another long-time client who has received an Emergency Loan is Pamela Lawton, owner of Heights Hand Therapy OT in Brooklyn Heights. She and her staff have been working two days a week to see patients for whom continuing occupational therapy care is essential. She is struggling to keep her staff on the payroll but worries that it will be a long time before all her patients feel safe coming back.

And Annabelle Santos, owner of Spadet, is using her emergency loan to add an all-natural hand sanitizer to her award-winning line of pure, olive-oil based skin products for sensitive skins.

While we take great satisfaction in how we were able to marshal resources to help so many businesses weather this very difficult moment, we know it's not over.

A number of clients with grocery stores or wholesale food businesses are experiencing higher sales than usual.  While it is unclear what the re-opening of businesses like restaurants or nail salons will look like, some of our clients' restaurants are providing delivery during the shutdown.

We are now gearing up for the recovery phase, and are reviewing different scenarios for ways to help clients prepare, and in some cases retool, retrain, and reorganize. We want our clients to know that whether its training, technical assistance, or potential new loan funds we are currently discussing, we will be there for them, every step of the way, for a successful recovery and re-opening.

As a result of our outreach we learned that many of our refugee clients had contracted COVID or were otherwise severely impacted by the shutdown and needed financial help. We therefore immediately set aside $50k, with the approval of our Board, and have launched our Grant Fund for NYC Refugee Business Owners, and are heartened that we have already raised – as of  May 7 – $17,000, which, with the match funds – means $34,000 in grant money to help our refugee clients through this crisis.